Main content
Vote for Your Ultimate George Michael Song!
As part of Radio 2 Celebrates Songwriting, we're asking for you to vote for the ultimate song by one of the ultimate songwriters.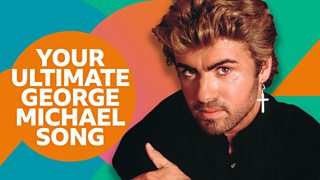 Back in 1982, the George Michael-penned Young Guns (Go For It) was his and Wham!'s first UK Top 40 hit. Formed with his friend Andrew Ridgely, Wham! went on to have five UK No.1 singles, ten Top 10 Singles and spent 203 weeks in the Top 75. The artist, born Georgios Kyriacos Panayiotou, later launched a hugely successful solo career with Careless Whisper in 1984, enjoying seven UK No.1 singles, 23 UK Top 10s, and spending 309 weeks in the Top 75.

So to mark 40 years of George's songs, written both during his time in Wham! and as a solo artist, we'd like you to choose your ultimate George Michael song from the shortlist below...

Songs are listed alphabetically by title, alongside year of release. Eligible songs for our shortlist must have charted in the UK Top 75 and be composed by George Michael (on his own and as a co-writer).

Scott Mills will be revealing your Top 40 George Michael songs on BBC Radio 2 and BBC Sounds on New Year's Day - Saturday 1 January 2022, from 1pm.
The Shortlist in Full:
Artist is George Michael except where mentioned in brackets. Year of first release is in brackets.
Amazing (2004)
Bad Boys (1983) (Wham!)
Careless Whisper (1984)
Club Tropicana (1983) (Wham!)
Cowboys and Angels (1991)
December Song (I Dreamed of Christmas) (2009)
A Different Corner (1986)
An Easier Affair (2006)
The Edge of Heaven (1986) (Wham!)
Everything She Wants (1984) (Wham!)
Faith (1987)
Fastlove (1996)
Father Figure (1988)
Flawless (Go to the City) (2004)
Freedom 90 (1990)
Freedom (1984) (Wham!)
Freeek! (2002)
Heal the Pain (1991)
I Want Your Sex (1987)
I'm Your Man (1985) (Wham!)
Jesus to a Child (1996)
Kissing a Fool (1988)
Last Christmas (1984) (Wham!)
Monkey (1988)
Older (1997)
One More Try (1988)
Outside (1997)
Praying For Time (1990)
Round Here (2004)
Shoot the Dog (2002)
Spinning the Wheel (1996)
Star People 97 (1997)
The Strangest Thing 97 (1997)
This Is Not Real Love (2006) (George Michael / Mutya Buena)
Too Funky (1992)
Waiting For That Day (1990)
Wake Me Up Before You Go Go (1984) (Wham!)
Waltz Away Dreaming (1997) (Toby Bourke / George Michael)
Wham Rap (1983) (Wham!)
White Light (2012)
You Have Been Loved (1997)
Young Guns (Go for It!) (1982) (Wham!)
Listen to Radio 2 Celebrates Songwriting on BBC Sounds