Migrant crisis: The Channel beaches that host a lethal trade in human hope
By Lucy Williamson & William McLennan
In Calais and Dungeness
The brutal journeys migrants make across the Channel are book-ended with beaches that tell the story of the crisis: from guerrilla-style smuggling operations among the French dunes to streams of soaking passengers washing ashore in Kent.
Hidden in the scrubby sand of the dunes of northern France are the calling cards of an international criminal industry: a discarded life-jacket, a rucksack, a petrol canister.
It is an industry that is sophisticated enough to commission specially-made boats and transport them across EU borders, but crude enough to hide clients for hours in scrubland before packing them on board.
On Wednesday, 27 people were confirmed dead after their inflatable boat capsized - by far the worst tragedy since these crossings began. But the very next morning, more vessels left France's northern shores for England, packed with people undeterred by the horror of what had happened the day before.
New arrivals in the camps here are given tips on how to find their people-smuggler. One young man, who had recently made it from Afghanistan, was told to look for "the Kurdish man" hanging around during food distribution twice a week. No-one the BBC spoke to had any problems finding someone to take them across.
The smuggling networks often use migrants themselves to manage logistics on the ground. These are one-time residents of the camps in northern France who've grown disillusioned with the challenge of getting out, and are simply looking to make some money, or who still hold out hope of leaving, and need to earn their place on a boat.
They serve as look-outs, hidden at intervals along the coast, sometimes for days in advance of a crossing. They note down the movements of security forces and alert their smuggler colleagues when it's time for passengers to break out of hiding and run down the beach to the sea.
Those hiding would have been told earlier that day to leave their camp. They would then usually have met at a secret rendezvous point before making a long walk to the coast - during which, migrants say, there are strict rules on behaviour, talking and mobile phones - and finally enduring a long wait concealed in the dunes.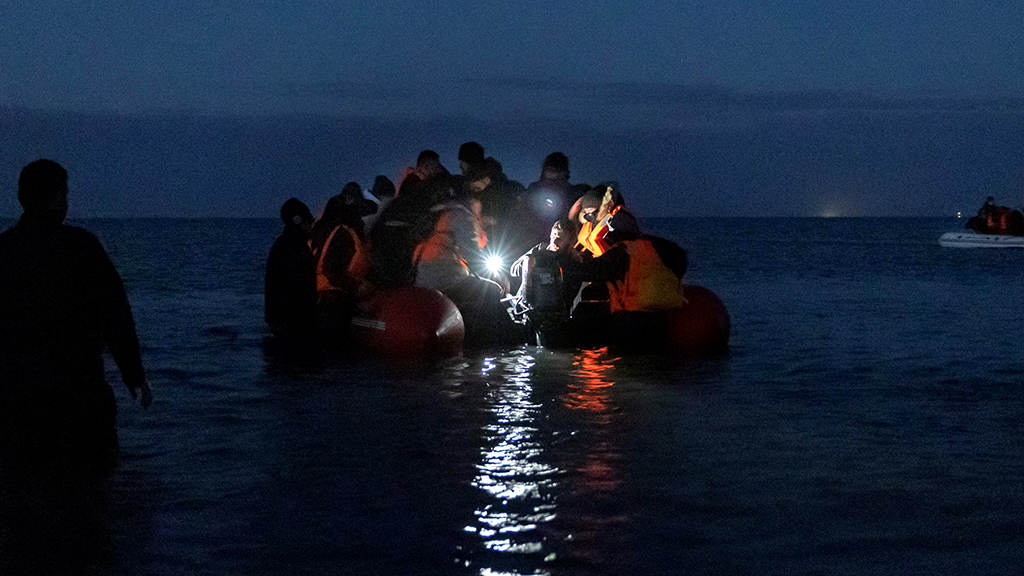 GETTY IMAGES
They wait until the last minute, then bring the passengers one by one towards the beach, and hide them behind rocks or trees
These hiding places are scattered all along this coast - not just in the dunes, but also in patches of woodland and in the concrete bunkers left over from World War Two. They are littered with the belongings previous passengers have left behind.
On Friday at Plage du Braek, a popular departure point between Calais and Dunkirk on a windswept and industrial section of the coastline, signs of life were everywhere. Sheets of tarpaulin. A pink trainer, half buried in the sand. And nestled among the dunes, an abandoned tent, surrounded by plastic juice bottles.
One man, who has worked for the smugglers in the past - let us call him David - explained that each smuggler has his favourite hiding places. "They wait until the last minute, then bring the passengers one by one towards the beach, and hide them behind rocks or trees."
Boats and passengers are kept separate until the very last moment, David says, not to protect the people, but to preserve the boat in case they're spotted by police, who could confiscate or destroy it. The crafts themselves are often brought in from Germany or Belgium, to help avoid scrutiny from French police. Many networks here are said to count EU residents among their members, who can easily drive equipment across the border into France.
Police say the boats are often specially commissioned - long and basic inflatable craft, built to hold as many people as possible. Their simple structure makes them especially dangerous. Separating inflatable vessels into compartments would help limit any damage and loss of air if the shell was punctured. And smugglers often don't bother, either, to reinforce the bottom of the boat with solid boards, meaning that the boats crumple when deflated, as one French minister said, like "a child's paddling pool".
Everyone knows the risks. Many in the camps are glued to an app on their phones that predicts the weather conditions in the Channel each day. Waves over a metre high spell real danger. But few are deterred, and those that are find themselves confronted with a dilemma. The networks want to be paid, and there are reports of them threatening customers if they change their minds.
There are several networks, with links to different communities and camps. And they're often in fierce competition with each other. Turf wars have become so vicious in the past year, one local mayor told the BBC, that some smugglers have started carrying guns.
And David says there is a shadowy side to the pricing system.
"Some will demand sex from women who want to cross." And poorer migrants, who can only scrape together a fraction of the asking price, will be put on old, over-crowded boats at the end of the good weather season, when the risks of crossing rise.
The stakes have only grown as French security forces have increased their patrols. The government here now says it's stopping more than half of all crossing attempts.
But patrols are carried out by different teams depending on the area and the timing: gendarmes and police; reservists and professional soldiers. Finger-pointing between them is a regular feature of policing here. The BBC has been on patrol with units who walk through the dunes talking, laughing and waving bright torches around, but also with those who are silent, disciplined and focused.
But they're facing larger groups of migrants than before - up to 80 or 90 at a time, one security chief told us - and they're frequently more aggressive too. The smugglers know that patrols cannot intervene in a crossing if it would put lives in danger. "Just get into the water," they tell their passengers, "and you're basically in the UK."
Some patrols on land will wade into shallow water to pull boats back to shore, but once at sea, vessels that are not in danger are simply monitored by French coastguards as they drift towards British waters.
The French authorities offer rescue to anyone in distress, but the UK Border Force union has told the BBC that migrants are often reluctant to accept assistance while in French waters, for fear of being taken back to French soil.
Once over the mid-Channel dividing line, migrants are typically happy to be rescued. The coastguard in Dover takes control, typically despatching Border Force vessels and RNLI lifeboats. Migrants are helped to clamber on to deck, huddling beneath blankets and beanie hats for the final leg of their journey to England.
On busier days, however, British fishermen are often inadvertently the first on the scene.
"It's a daily occurrence," says Jerry Oiller, who has run a charter fishing boat from the Kent coast for more than three decades. Earlier this year, he found two men in an inflatable canoe about four miles from the shore. "The boat turned over and we had a job to get them back up, but we managed to pull them out," he said. "It was like a kiddie's inflatable," he said. "They didn't have anything with them, only two little pink paddles."
The men, from French Guiana, told Mr Oiller they had been at sea for more than 24 hours.
After tethering the canoe alongside his boat Fairchance, he called the coastguard and made cups of sweet, black coffee for the pair, while waiting for a Border Force vessel to turn up.
The majority of the 37,000 or so migrants that have made it to UK waters since 2018 have been intercepted at sea and dropped off directly at a secure area at the Port of Dover - known as the Tug Haven. Largely obscured from public sight, this collection of marquees and temporary buildings was only ever supposed to house people for a few hours, but inspectors have found migrants are increasingly forced to stay there overnight. It is here that most make their asylum application, before being dispersed around the country awaiting a full assessment and decision.
Some dinghies, however, run aground on British beaches unaided. About 1,600 boats have reached UK waters in the past two years, with dozens landing along a stretch of coastline from Joss Bay near Margate in the east, to Hastings in the west.
The majority make landfall at Dungeness - the most southerly tip of Kent. This nose-shaped headland that juts out into the Channel has been built up by the sea over thousands of years and will be the closest point on the horizon for any boat blown west of Dover.
Mr Oiller's family have fished at Dungeness for generations. From the door of his cluttered hut, which is plastered with washed-up treasures combed from the beach, he can see the impact on local lifeboat crews. "They were out seven times one day last week," he said.
The shifting pattern of arrivals is also making the task more difficult and dangerous, he said. Where dinghies would once arrive by mid-morning, now they are turning up throughout the day, as boats push off from France later and later.
The size of the boats have also increased, often reaching lengths of up to 30ft (9 metres) or more, he said.
BBC analysis of Home Office data has found that the average number of people on each boat has risen sharply. In 2020, each vessel carried an average of 13 people. That figure more than doubled to 28 this year. Put another way, while the count of boats reaching British waters has risen by 47%, the number of people making it to the UK has risen by more than 200%.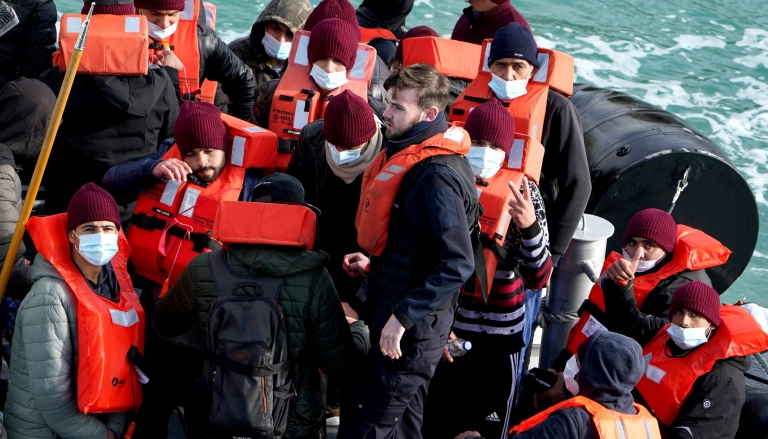 Press Association
Migrants reaching UK by boat
Numbers arriving from French coast by small boat
1,835 arrivals in 2019

8,469arrivals in 2020

26,560arrivals so far in 2021
Source: UK Home Office, 24 November 2021
Mr Oiller believes the risks are rising too. "If you stack a lot of people on, if there is an accident, it is more likely to be a big accident," he said.
Those that make it to Dungeness are greeted by a steep stone bank sloping to the foreshore. The water on a calm day can look like a mirrored mill pond. But the weather can deteriorate dramatically here.
"It is a land of extremes," says local artist Helen Gillilan. "We are sticking out at sea, if we get the wind, we get tremendous wind. Nature is so powerful here. You really feel these things."
The spartan landscape of shingle and scrub is home to two nuclear power stations, but also hosts a vast, insect-rich nature reserve. "They must wonder where on earth they are when they land here," she said. "It's like nowhere else in this country, it's not very British."
From her studio window, Ms Gillilan can see the "now familiar line of people trudging up the long shingled walk to the lifeboat station". Despite the frequency, she has not been desensitised. "It really strikes me that they arrive with nothing," she said. "It's just awful."
Residents have grown accustomed to the sight of dozens of wet and windswept people - often including young children - waiting outside by the lifeboat station for a hastily-arranged coach to take them to a Home Office facility in Dover or elsewhere in Kent.
On a sunny day earlier this year, one resident told the BBC, she had been greeted by an arresting sight: on one side of the road, a group of migrants, waiting with Border Force for their transport, on the other, a coachload of children on a school field trip.
The stark scenery has attracted many artists, among them the late film director Derek Jarman, who, like the nuclear reactors, has become almost synonymous with Dungeness. Decades after his death, busloads of devotees still travel to his former home at Prospect Cottage.
This year, however, many of the coaches leaving Dungeness carry a different sort of visitor, who, in a desperate search for a better life, have risked their lives overcoming Europe's borders.
With additional reporting by Toby Luckhurst at Loon Plage