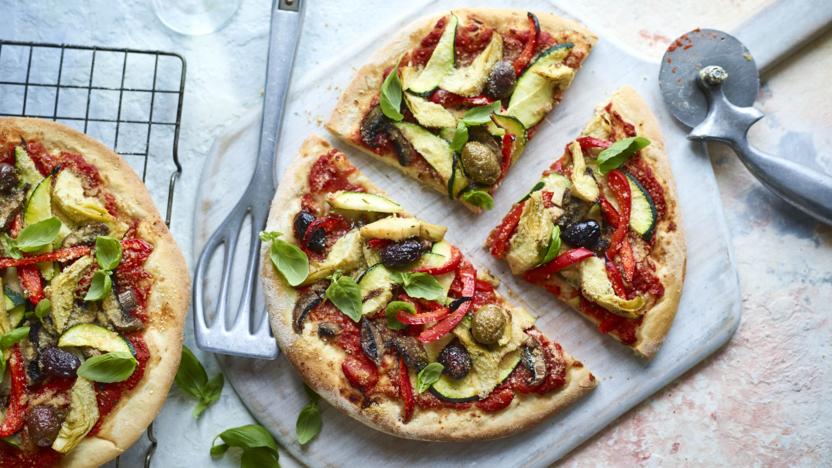 You can use any vegetables you like for this vegan pizza – just remember to keep them thinly sliced and don't overcrowd the base.

Each serving provides 418 kcal, 13g protein, 47g carbohydrate (of which 8.5g sugars), 19g fat (of which 2g saturates), 6g fibre and 1.9g salt.
Ingredients
For the topping
Method
Sift the flour into a large bowl and stir in the yeast, sugar and sea salt. Stir the water into the flour with a large wooden spoon until the dough comes together and forms a soft, spongy dough.

Transfer the dough to a work surface and knead for 5 minutes until smooth. (The dough will feel very sticky to begin with). Place in a greased bowl and cover with lightly oiled cling film. Leave in a warm place for about an hour or until doubled in size.

While the dough is rising, make the tomato sauce. Heat 2 tablespoons of the olive oil in a frying pan and fry the onion over a low heat for 5 minutes, or until softened and lightly browned. Stir regularly and add the garlic for the last minute of cooking time.

Tip the tomatoes into the pan and add the oregano. Season with salt and pepper. Place over a fairly high heat and cook for 8–10 minutes, or until the sauce is very thick, stirring constantly. Remove from the heat and leave to cool.

Divide the dough into two even pieces, form into balls and flatten slightly. Using a floured rolling pin, roll each dough ball out on a well-floured surface until around 25cm/10in in diameter – large if you like a very thin and crispy pizza.

Place the dough onto two baking trays, each lined with non-stick baking paper. Spread with the tomato mixture, leaving a 1.5cm/?in border around the edge. Leave to prove for 30–40 minutes.

Preheat the oven to 240C/220C Fan/Gas 8. Arrange the pepper, courgette, mushrooms and artichoke over the pizzas. Sprinkle with the ground almonds and top with the olives.

Bake for 9–10 minutes, or until the vegetables are just cooked and the dough is golden brown. Cook one at a time or one above the other. (If cooking at the same time, you may need to leave the pizza on the lower shelf in the oven for longer.) Garnish with lots of fresh basil leaves and drizzle with a little more olive oil before serving half a pizza per person.