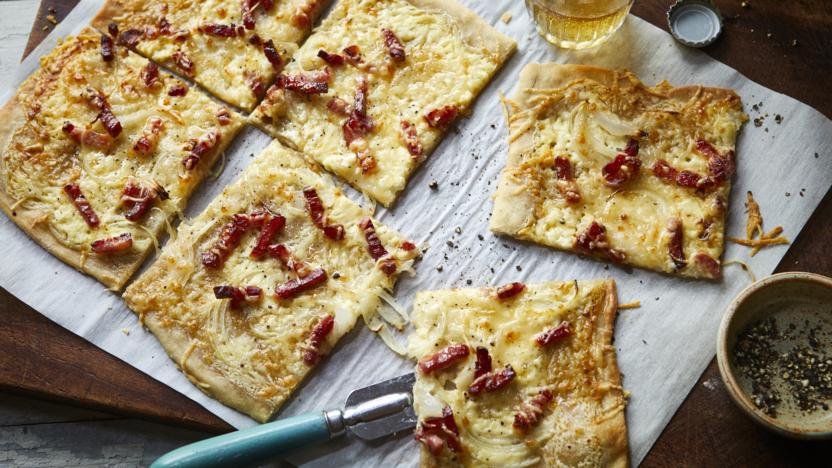 I was first introduced to tarte flambée with the explanation that it's France's answer to pizza. In fact, it's not much like pizza at all, apart from being very thin and savoury. As it is made with unleavened dough, it bakes very crisply indeed, which is its great quality. I know you can get tarte flambée in London, but why it isn't as famous as pizza escapes me.
Ingredients
For the dough
For the topping
Method
To make the dough, mix the flour and salt together in a bowl, then add the water and oil and bring together to make a dough. Transfer to a floured work surface and knead well. Roll the dough into two thin rectangles, each measuring around 25cmx28cm/10inx11in.

To make the topping, dry fry the bacon lardons in a frying pan until the fat renders out and they are golden-brown. Drain on kitchen paper.

Preheat the oven to 230C/210C Fan/Gas 8 and line two large flat baking trays with baking paper. Place the dough rectangles on the trays.

Spread the crème fra?che over the dough leaving a little border around the edges. Scatter over the onion, dot with the lardons and sprinkle liberally with Emmental. Season with salt, pepper and a grating of nutmeg.

Bake for 10–12 minutes, or until the base is crisp and the cheese is bubbling. Slide the tarts onto a wooden board and use a pizza cutter to cut them into portions. Serve immediately with drinks or as a light lunch with a green salad.
This recipe is from...
Recipes from this episode