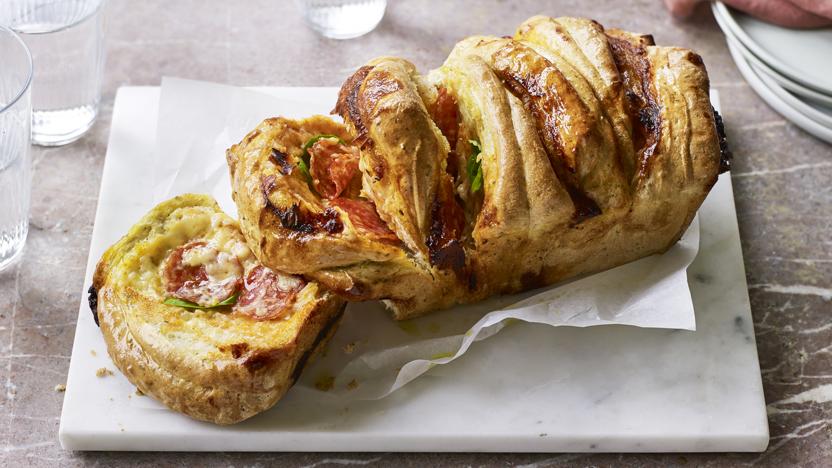 Nadiya's pepperoni and cheese sharing bread has all the flavours of pizza, but is easier to eat!

Ingredients
For the dough
For the topping
Method
To make the dough, place the flour, oregano, sugar, salt and yeast in a large bowl or the bowl of a stand mixer, making sure to keep the salt and yeast on separate sides until you begin mixing. Mix everything together. Make a well in the centre, add the water gradually and mix until the dough starts to come together. You may not need all the water.

Dust a work surface with flour and knead the dough by hand or attach a dough hook and knead in the stand mixer. If you are doing it by hand, it should take about 10–12 minutes of continual kneading. If you are doing it in the mixer, 6 minutes on a medium speed should do the trick. What you are looking for is a stretchy dough that is smooth, shiny and still just a little bit tacky. Cover the bowl with greased cling film and leave the dough to prove until doubled in size. Generously grease the inside of a 900g/2lb loaf tin with oil.

Tip the dough out on to a lightly floured work surface and roll out to a 25x35cm/10x14in rectangle (you might need more flour because it is a wet dough). Brush the top with the sriracha, distribute the cheese slices evenly over the top, top each piece of cheese with 2 pepperoni slices and pop a basil leaf on top of each.

Now cut the rectangle into 8 equal squares. Take each square and fold it in half like a book. Stack them side by side in the tin with the filling bit exposed at the top. Cover with greased cling film and leave to prove until it has doubled in size again.

Preheat the oven to 200C/180C Fan/Gas 6. Remove the cling film from the tin and bake for 25 minutes, or until cooked and golden. Take out of the oven and brush all over with the olive oil, then leave in the tin for 20 minutes before pulling apart, tearing and sharing!
This recipe is from...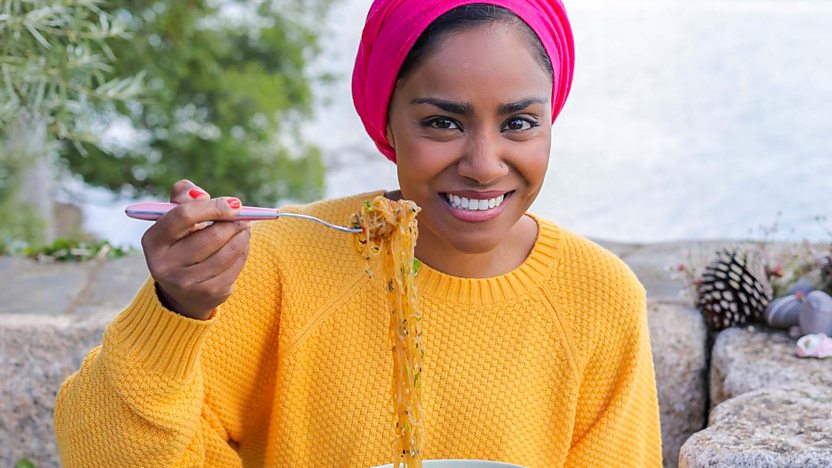 Nadiya Bakes
3. Savoury Bakes
Recipes from this episode